Join the First Peninsula Commercial team – now!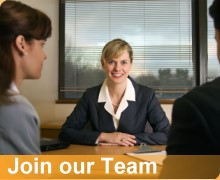 Employment Opportunities at First Peninsula Commercial
Commercial Business Agents – South Hams and Solihull
First Peninsula has earned the respect of buyers and sellers for its highly professional and skilled approach to commercial transactions. To reach and service its target markets First Peninsula Commercial will be looking to increase its business agency staff in 2011.
Ideal business agents are mature individuals able to support buyers and sellers whilst guiding them through the business sale and acquisition process. Are you a motivated professional with a minimum of 10-years business management or business ownership experience with strong negotiation and analytical skills? If so, First Peninsula Commercial can offer you an unmatched knowledge base and level of support to help you develop a career as a commercial business agent.
Kindly introduce yourself.
If you want to be considered as a potential member of a professional team please send your CV by post or via email together with a covering letter to:

Sean McQuitty
Managing Director
First Peninsula Commercial
Britton House
10 Fore Street
Kingsbridge
Devon TQ7 1NY
Phone: 01548 854455
Email: [email protected]